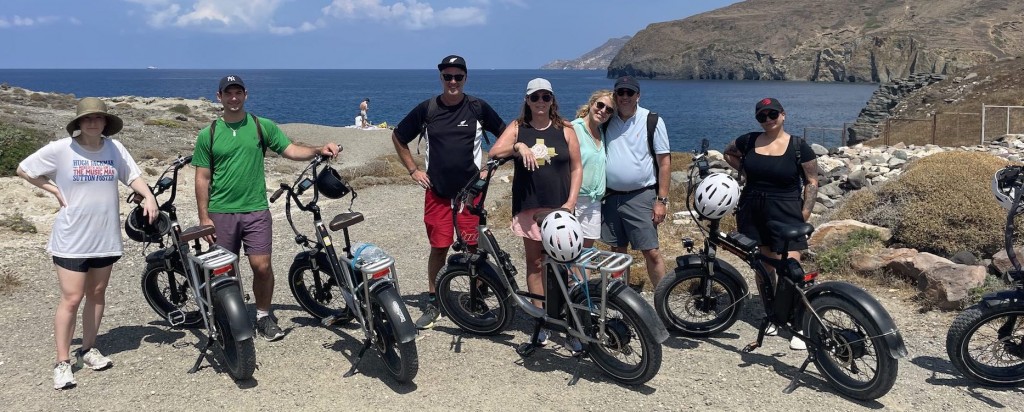 A relaxed ride that lasts about 3,5 – 4 hours and is a great way to see some of the must sees in Milos.
We will meet on the boulevard in Adamas where we will take our bikes, put on our helmets and after a short safety brief, we are on our way. A scenic slight uphill ride towards Tripiti, thanks to the electric assistance this is quite effortless and fun.
We will make our first stop at the famous Catacombs of Milos and the Ancient Roman Theater going back in time.....but also have these amazing views from the top over the bay, where we can see the fishermen village Klima with the colorful doors, from above and the clear blue waters. After having made some nice shots we are going uphill towards the most Picturesque village of Milos, the Capital Plaka, a short stroll to see the graphic houses and little alleys, the beautifull church and again breathtaking views over the bay of Milos. After stopping in Plaka, we will head to Klima, the fishermen village, where you will have the opportunity to take a refreshing dive and explore a unique place. From then on we follow the north side coastline with Sarakiniko as our next and last stop. On one of the best beaches in the world with the amazing rock formation, you will have plenty of time to swim in the fantastic waters of the beach and have the coolest dives from the rocks, then we are heading back to Adamas full of new memories.
Start at 9:30 and has 3-4 hours duration.
Monday, Tuesday, Wednesday, Thursday, Friday, Saturday, Sunday.
Price Per Person: 65€
The above bike ride is available in English and Greek.
Meeting point: Thalassitra Sailing Travel Agency, Αδάμας, Plaka 848 00, Greece